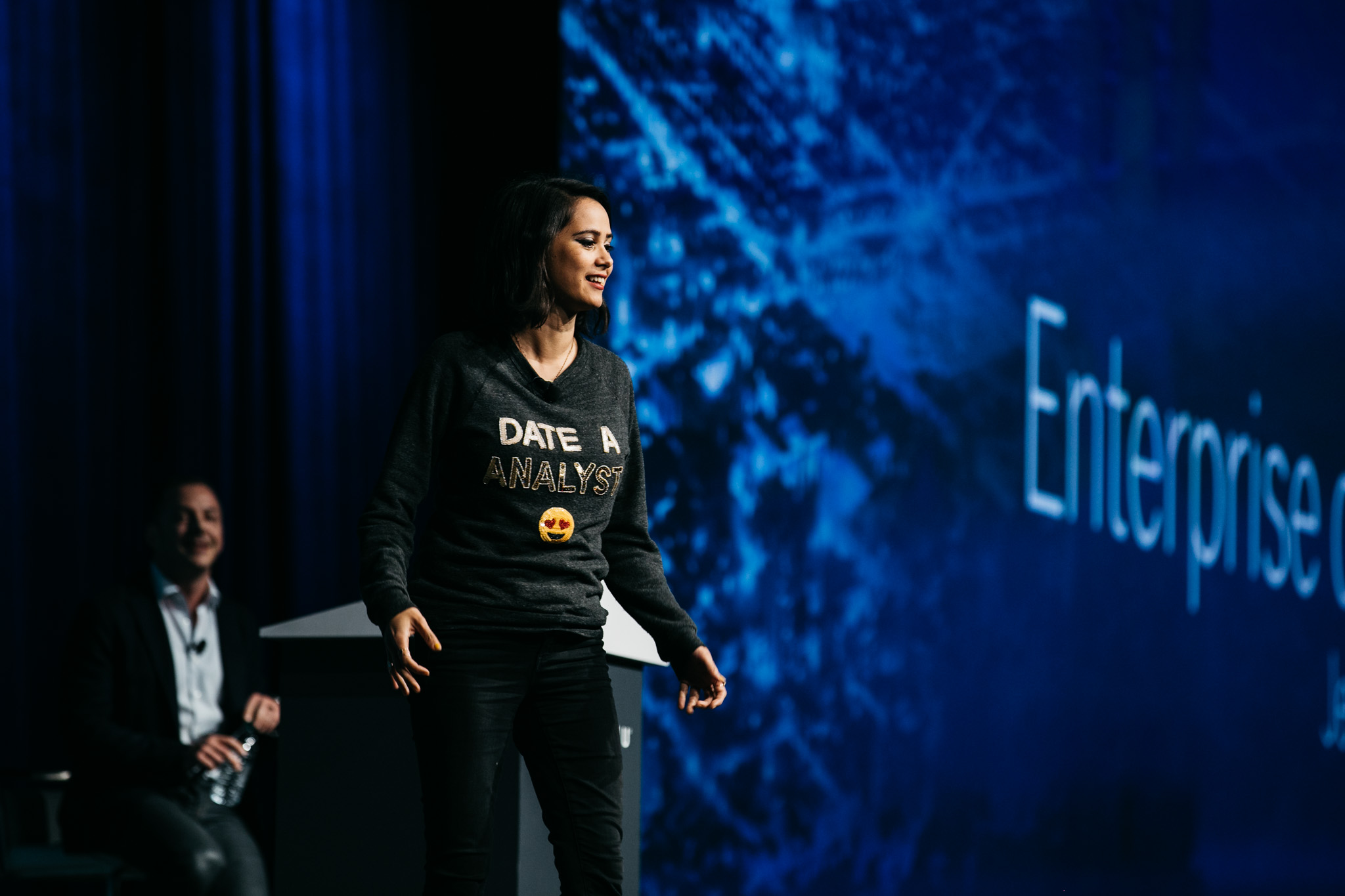 I like public speaking and sometimes I'm ok at it.
I hosted Iron Viz 5 times during my tenure at Tableau. Iron Viz is an annual competition held at the Tableau Conference in which 3 contestants create a dashboard live in front of an audience of over 10k people in 20 minutes. 2017 was my favorite year of doing it, since everyone just let me write the script with very little oversight. It was also the first year that the production value went up significantly. In addition to scripting the intro and ending, my co-host and I had to improvise during the competition, announcing what was happening like sportscasters. This was always my favorite part of Iron Viz because I got to flex my data visualization prowess to understand and explain some of the techniques being used.
Pimp My Viz was a recurring talk I would do at Tableau Conference. In it, I would makeover Tableau visualizations submitted by the community. However, just like Xzibit in the original "Pimp My Ride" I didn't just make these dashboards functional and adhere to best practices; my makeovers would typically involve going way overboard with some hacks that made the dashboards ridiculous. The thing I'm most proud of about these presentations is that I completely remade the intro song to "Pimp My Ride" including an animated intro made in Powerpoint.
For this presentation, I expanded on the work of my mentor, Ben Jones, to explore not just what kinds of data stories existed, but in what context they would help start a useful conversation and drive action within an organization. I gave this talk while I was the Product Manager for Storytelling at Tableau and was trying to evangelize some of the features I worked on.
This was a little mini-talk that I gave at the Tapestry Conference in St. Augustine, FL in 2017. It's an exploration on how my own work got more sophisticated as I started to use more tools with prescriptive features and why building in best practices would be essential for people to fully buy in to the idea of data storytelling.
This was the session that launched a thousand blogs. Back in 2014, I was on the Tableau Public team and trying to grow our user base. I assembled a small panel of sorts with two luminaries from the community, Peter Gilks and Andy Kriebel, to discuss why starting a data blog and making experimental vizzes for no reason other than playing can be not only fun but also boost your career. Five years later, I still get people telling me that this talk marked a shift in the Tableau community that changed people's lives, allowed them to pursue their passions, and built entire careers. I'm pretty proud that something with such a dumb title could do that.
This was a session I developed for the Upstream Music Festival + Summit. The Summit was meant as a conference to help musicians better understand the business side of the industry. I organized a panel with Emily Blake (Data Journalist at Next Big Sound, a Pandora subsidiary) and Brian Ringer (CTO at Napster) to give some examples of ways musicians could find and leverage data to understand their audience and how to grow.